Description
Store your Walther Arms P38 pistol properly in this precision-cut custom foam Pelican case. This case is ideal to store your pistol, ammunition and magazine. Click the CUSTOMIZE button to add spaces for other accessories!

Includes Spaces for:
A - Walther Arms P38
B - Walther Arms P38 Magazine
About this Case:

Pelican 1200
O.D. 10 5/8" x 9 11/16" x 4 7/8"
I.D. 9 1/4" x 7 3/8" x 4 1/8"
Features
Unbreakable, watertight, dustproof, chemical resistant and corrosion proof. These are some of the features of the Pelican Protector Case that offers total protection for your equipment. It is made of Ultra High Impact structural copolymer that makes it extremely strong and durable. Its exclusive 1/4" (6.4 mm) neoprene o-ring and ABS latches seal perfectly and includes an automatic purge valve for quick equalization after changes in atmospheric pressure.
Your equipment can fit into the high density foam for total subjection and protection against impact, vibration or shock. This case is NATO-codified and tested to MIL C-4150J (Military Standard), IP-67 (Ingress Protection) and ATA (Air Transportation Association). You break it, we replace it... forever
Tough, Rugged and Lightweight
Airtight, Watertight, Impervious to Mother Nature
Dent-resistant, Shatter-resistant, Virtually Unbreakable
Guaranteed for Life
Safe and Secure
Choose from the following colors at checkout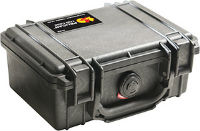 BLACK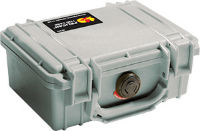 SILVER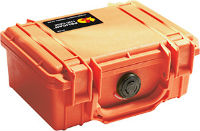 ORANGE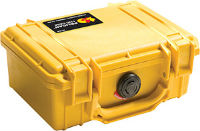 YELLOW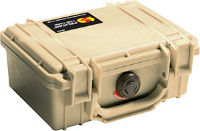 DESERT TAN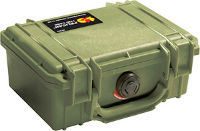 OD GREEN
Features
Inside Dimensions
Total Depth:
4.06" (103mm)
Corner Radius:
.375 (10mm)
Outside Dimensions
Length (O.D.):
10.62" (270mm)
Width (O.D.):
9.68" (246mm)
Total Depth (O.D.):
4.87" (124mm)
Case Information
Case Type:
Injection Molded
Empty Weight:
2.65 lbs (1.2 kg)
Pressure Relief Valve:
Yes
TSA Approved

TSA requires the following:
The firearm must be in a hard-sided container.
The container must be locked. A locked container is defined as one that completely secures the firearm from being accessed. Locked cases that can be pulled open with little effort cannot be brought aboard the aircraft.
Please refer to the TSA website for more information:
TSA Transporting Firearms and Ammunition

:
Yes, Airline approved
Wall Construction:
Single Wall-Injection Molded
Waterproof

Waterproof: Yes - IP67 Rated 100% protected from dust and sand and can be submerged up to 3 feet of water for up to 30 minutes

Weather resistant - Can withstand spashes of water but cannot be submerged

:
Yes